SSH-Protect
Jump to navigation
Jump to search
Anti-Cheat-Protection from CKRAS
What is the CKRAS Protect+?

CKRAS Protect PLUS + (SSH Protect) is the best Server Protection on the market. The CKRAS Protect Plus + scans even more intense if SSH Cheat Files have been installed on the Gameserver. Our Protect sets the file permissions of / files on the server, thus making manipulation virtually impossible. You can always enable or disable the Protect in the webinterface.


which is checked?

Our CKRAS Protect scripts compares all server files with the CKRAS master server and replaces / deletes the changed files. If the CKRAS ServerProtect enabled, the current server process is ended and after restarting the Protect PLUS + is available


Can I download my demos on my FTP-Server?

The FTP access is possible at any time. The download of demos is here thus possible without the Protect would have to be disabled first. We only restrict that use to activate Protect no "Files / Files" can be changed.


FTP Read Only (Protect Plus+)?

With our new CKRAS Protect Plus + FTP access to the server at any time. The rights of the FTP will be limited here to READ ONLY, a change of server files is not possible.

How can I check my status?
Please go to to https://protect.ckras.com
Note: The CKRAS Protect protection is available for all CKRAS Gameserver. In addition, you will be in the Webinterface, the status "enabled / disabled" is issued, see also next point "
Webinterface Protect activate/deactivate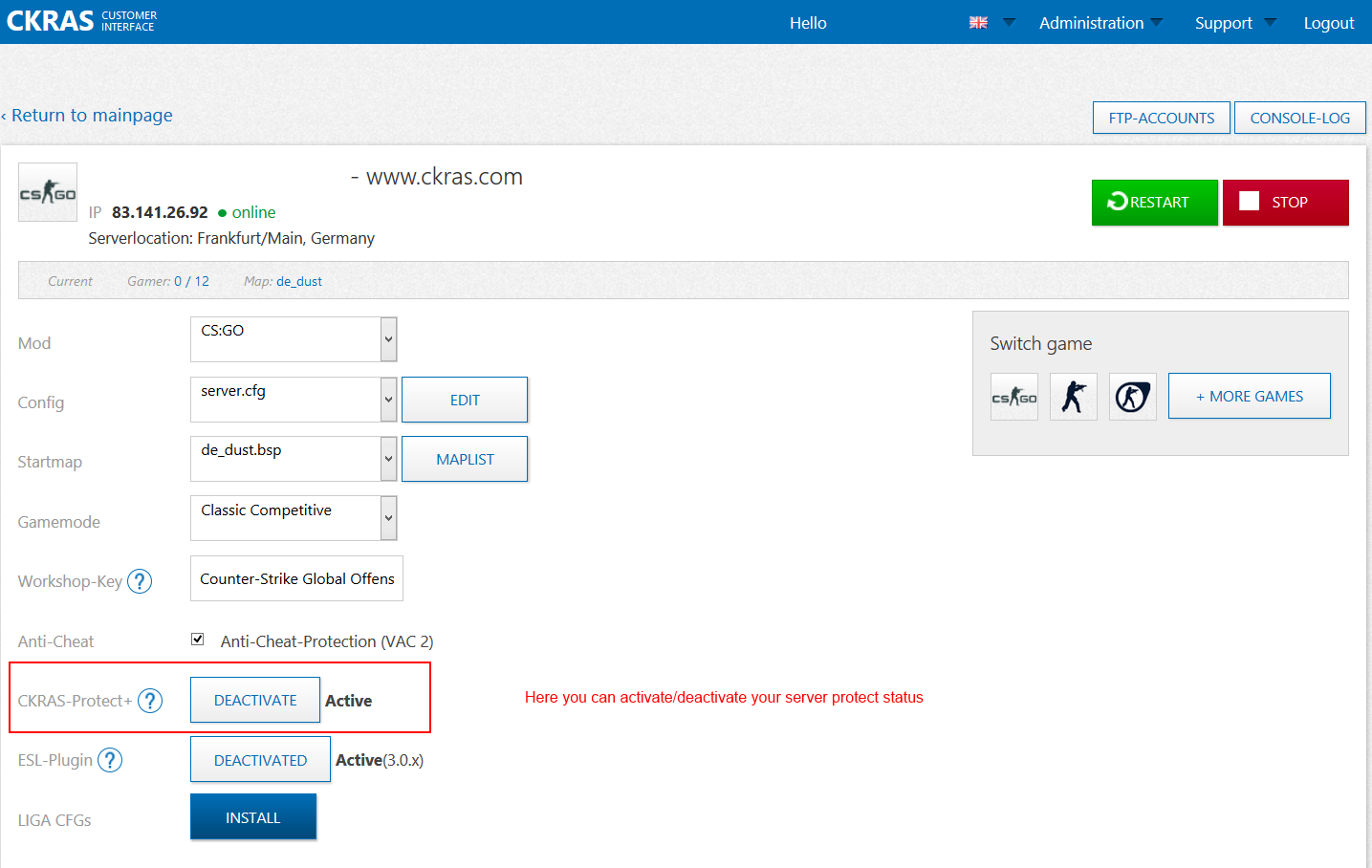 Here you can see where you have to click to enable or disable the Protect status.
CKRAS Server Protect PLUS+?


CKRAS Protect is a SSH-Filecheck (Server-Side-Hack) System from CKRAS, we will check privileges from files on your gameserver and we guarantee with a clean new default installation, that a customer can´t spoofing any files on the Gameserver.

What will we check?


Our Server Protect Script compare any Serverfiles with our MasterServer and will replace changed Files on the gameserver. If a customer will activate the CKRAS SSH Protect, the gameserver progress will be stopped and after a new server restart you have a protected CKRAS Server. You can check your protected status on our page, with a log activation/deactivation overview.

Is it possible to connect via FTP?


You can connect with a FTP-Software to your GameServer, with activated CKRAS Protect you can´t change any files, but your are aible to download demos or logs from your Server. more details see (FTP Read ONLY)

FTP Read Only?


With our CKRAS Protect SSH Plus+ you can allways connect to your FTP-Server, we change with a activated Protect Server all Files to "READ ONLY", so you aren´t aible to edit any files on your FTP-Server, so we can grant a Cheat Free SSH-Server.



EPS Server The EPS Server is for advanced gamers or players with performance thinking, which want perfect gameserver performance.
EPS PLUS+ You want to play like a Pro-Gamer? The EPS Extreme Server Plus offers you the best gaming performance.
Smartline / EPS-Entry - The perfect entry for your gaming career, our EPS Entry Server with an excellent price / performance ratio for public or non-public gaming. .



Still not convinced, but then request a Testserver, CKRAS-Support