Difference between revisions of "PRACC"
Jump to navigation
Jump to search
Line 101:
Line 101:
 

|}

 

|}

 
 
−

== WICHTIGE LINKS ==

+

== LINKS ==

 
 
 

[[Webinterface]] - https://iface.ckras.com<br>

 

[[Webinterface]] - https://iface.ckras.com<br>
---
Revision as of 11:43, 6 February 2021
Ihr könnt mit PRACC euren You can ease manage yourCS:GO Gameserver with PRACC, without using a CS:GO#RCON_Befehle, this addon will replace EBOT CSAY Plugin atCKRAS, which is not longer supported.

Datei:pracc.png

PRACC FOR YOUR CKRAS GAMESERVER (HOW TO GUIDE)

PRACC
WHY PRACC? PRACC ist ein Plugin zur einfachen Spieleverwaltung für deinen CS:GO Server, mehr Informationen zu PRACC findet ihr hier: https://pracc.com/
Advantages compared to the Current System
   No more double bookings
   Clarity
   Appropriate filter options
   Convenience
   Automatic request adaption regarding booked practice matches
   Automatic adding of practice matches to your calendar

Unification It will become one place, for the amateur and the pro players, to easily find a way into the competitive scene since everything is transparent and you don't need contacts or a facebook account.
HOW TO INSTALL PRACC IN THE WEBPANEL
Please click in the Webinterface https://iface.ckras.com, edit Gameserver and then in the selection the buton install PRACC, afterwards follow the steps in this guide.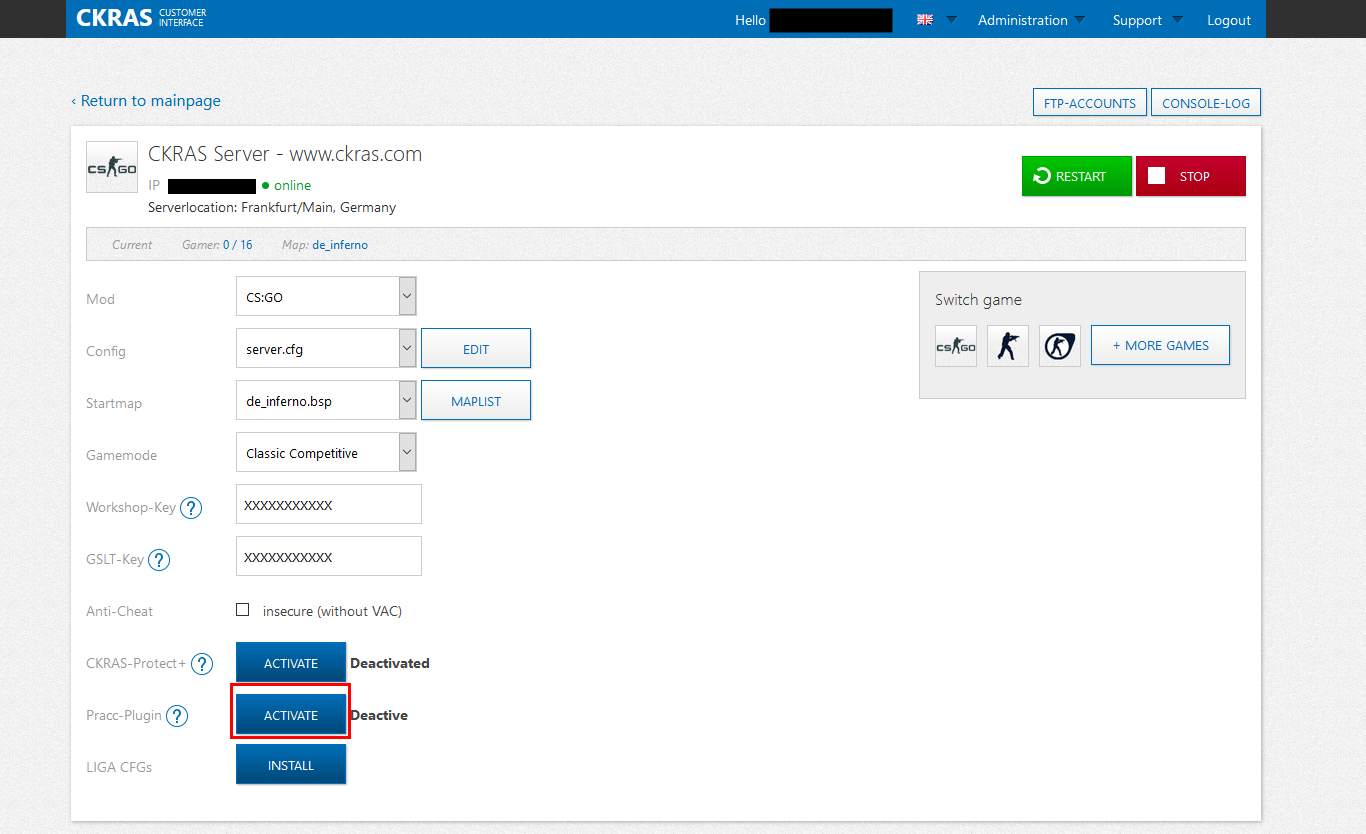 Please click "RESTART" after you have clicked install the Plugin.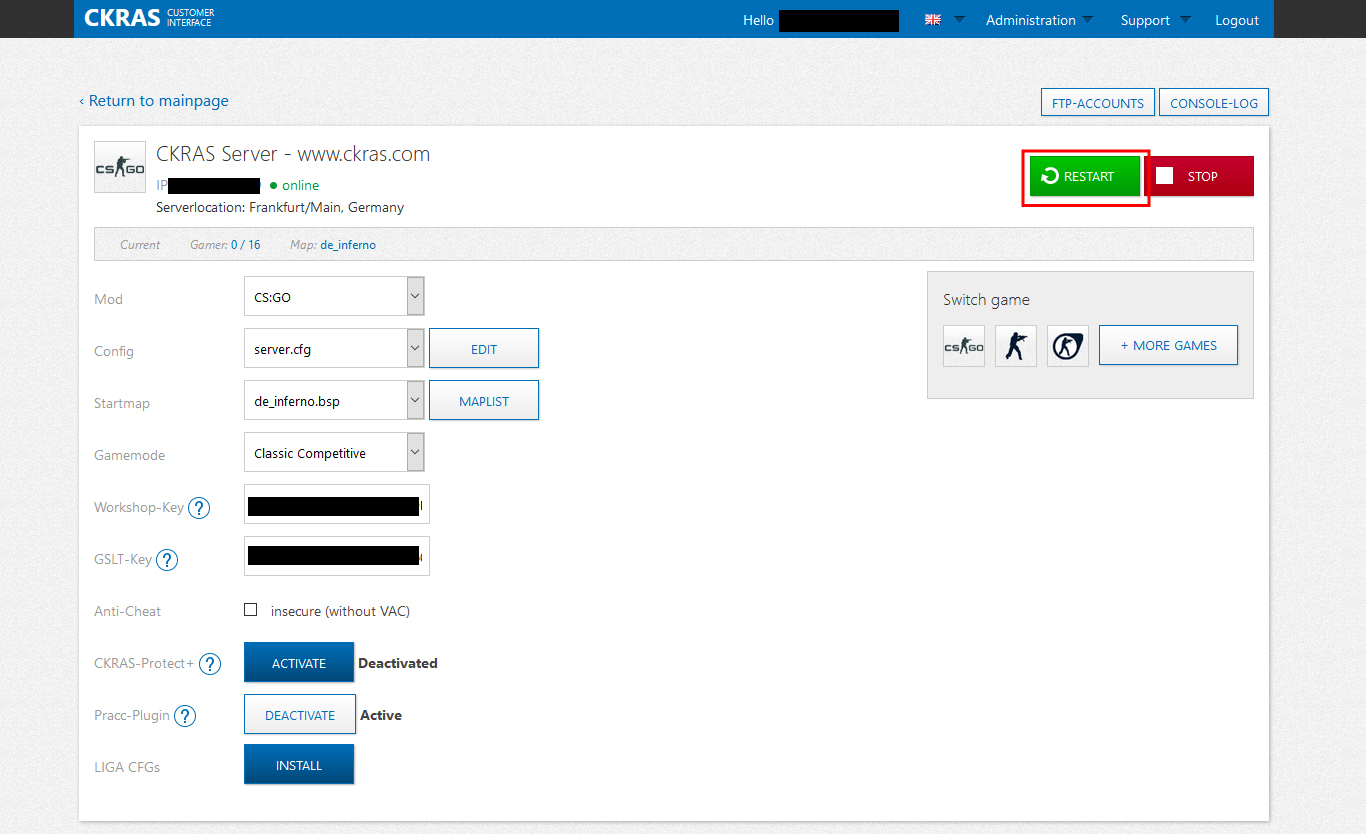 PRACC SETUP
You have to register atf https://pracc.com, then you can setup and connect your CS:GO Gameserver ease with the PRACC Bot.
---
PRACC ADMIN COMMANDS
With these commands you can manage your CS:GO Gameserver from https://www.ckras.com
| Admin Commands | Description |
| --- | --- |
| !start [maps] | Starts a BO1-match in current map or BO[n] match in listed maps. (Aliases: !startmatch, !map, !maps, !match) |
| !force | Forces match/knife start. |
| !restore [round] | !restore [round] |
| !knife | Enables / Disables knife round. |
| !record | Enables/Disables GOTV Demo recording (make sure GOTV is enabled!) |
| !overtime | Enables / Disables Overtime. (Aliases: !ot) |
| !fullmap | Enables / Disables Fullmap (outplay a match with 30 rounds). |
| !settings | Shows match settings. |
| !dm | Enables DM Mode. |
| !tactics | Enables TACTICS Mode. |
| !freezetime [seconds] | When in TACTICS Mode, restarts the round with given freezetime. |
| !swap | When in WARMUP or TACTICS, switches the teams. |
| !rcon_command | Change any server command by typing for example !sv_cheats 1 |
| !impacts | When in TACTICS, shows impacts. (Aliases: !showimpacts) |
PRACC Spieler BEFEHLE
| Player Commands | Description |
| --- | --- |
| !help] | Print out all in-game commands. |
| !pause | Pauses the match on next freeze time. Match will resume when both teams are ready. |
| !ready | Tells the bot your team is ready to start or resume the match. (Aliases: !resume, !unpause, !r) |
| !unready | Tells the bot your team is not ready. |
| !swap / !stay | Pick the site you want to play on after you won knife. |
| !coach | Lets a user go to coach slot of current team. |
| !spec | Lets a user spectate if TACTICS or Warmup Mode is enabled. |
| !play | Lets a user go back to his previous team after coaching or spectating. (Alias: !join) |
IMPORTANT LINKS
Webinterface - https://iface.ckras.com
Gameserver - CS:GO MOST POPUPLAR - GSLT - Workshop
Order Gameserver https://www.ckras.com/en/product-gameserver.html
CKRAS https://www.ckras.com/en/