GSLT
Jump to navigation
Jump to search
Gameserver LOGIN Token Area - GSLT for your CS:GO Gameserver (Counterstrike Global Offensive)

---
Gameserver Login Tokens (GSLTs) // GSLT WIKI DEUTSCH



GameServer Login Token are needed for all CS:GO Gameserver, you have to sign in your Gameserver at the SteamCommunity Page. What you have to do, we will explain in this Guide. Workshop
Step 1
First of all you have to login at http://steamcommunity.com/dev/managegameservers
Step 2
Here you can manage dedicated game server accounts associated with your Steam account. Requirements:

- Your Steam account must not be currently community banned or locked.
- Your Steam account must not be limited.
- Your Steam account must have a qualifying registered phone.
- Your Steam account must own the game for which you are creating a game server account.
- Your Steam account may create 1000 game server accounts.

Step 3
After you have fulfilled the credentials to create a key, you have to add the correct APPID. For CS:GO you have to select for example: 730
The memo text helps you to manage the keys, just what can be very useful when you managing multiple Gameserver.
Step 4
After that you have to copy your key from the steam community page and add this key in the CKRAS Webinterface CKRAS https://iface.ckras.com , please insert the key at the "marked" position and "Restart" your Gameserver, to save these settings.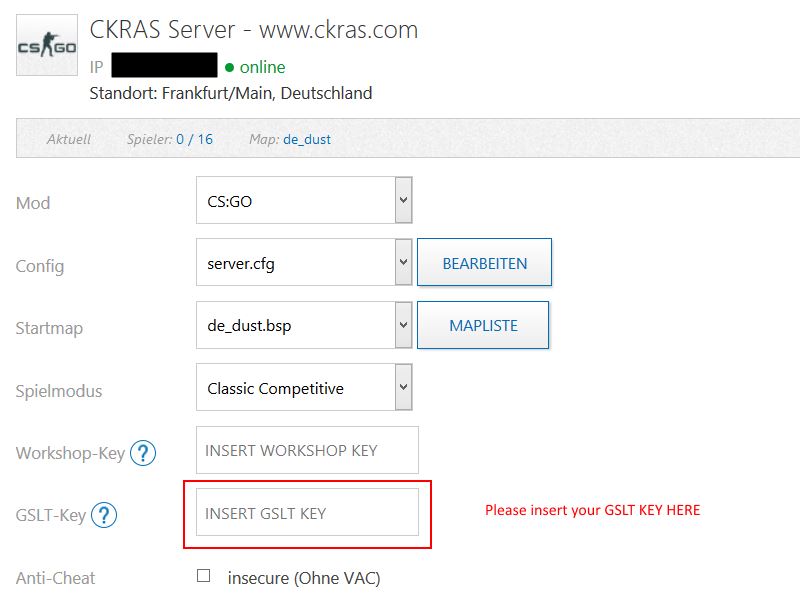 Step 5


After the key has been entered and the gameserver is restart, you should connect once to the gameserver to test whether the server establishes the connection to your steam account correctly. Should you have done everything correctly, you will appear in the LOG about this message:



Logging into Steam gameserver account with logon token 'BCD6ECC50E7----------------'
Connection to Steam servers successful.
Public IP is 83.----------.
Assigned persistent gameserver Steam ID [G:1:1337].


Step 6
If this message appears, you have done everything right and the CS:GO Gameserver has been installed/setup correctly. We would like to refer here to the major Workshop guide that you should necessarily run.
Please note: You will need in addition to the GSLT Key also a Workshop Key to eg conveniently via RCON to install your desired Maps, for example de_tuscan.
More information about CS:GO can be found in special WIKI area. For questions or problems please contact our support www.ckras.com/contact