EBOT
Jump to navigation
Jump to search
CKRAS working on a solution to install EBOT via Webinterface to use this Plugin for your CS:GO Server, more SOON! Important Guides Workshop, GSLT
In Kürze erscheint die Nachfolger Version von 3.1, danach werden wir die Lösung für das CKRAS WEBPANEL bereitstellen.




EBOT FÜR DEINEN CKRAS SERVER (HOW TO GUIDE)

CSAY
How you can install the CSAY PLUGIN from EBOT (GUIDE will be availible soon)
Install CSAY in the Webpanel
Please click activate to install the CSAY EBOT PLUGIN on your Gameserver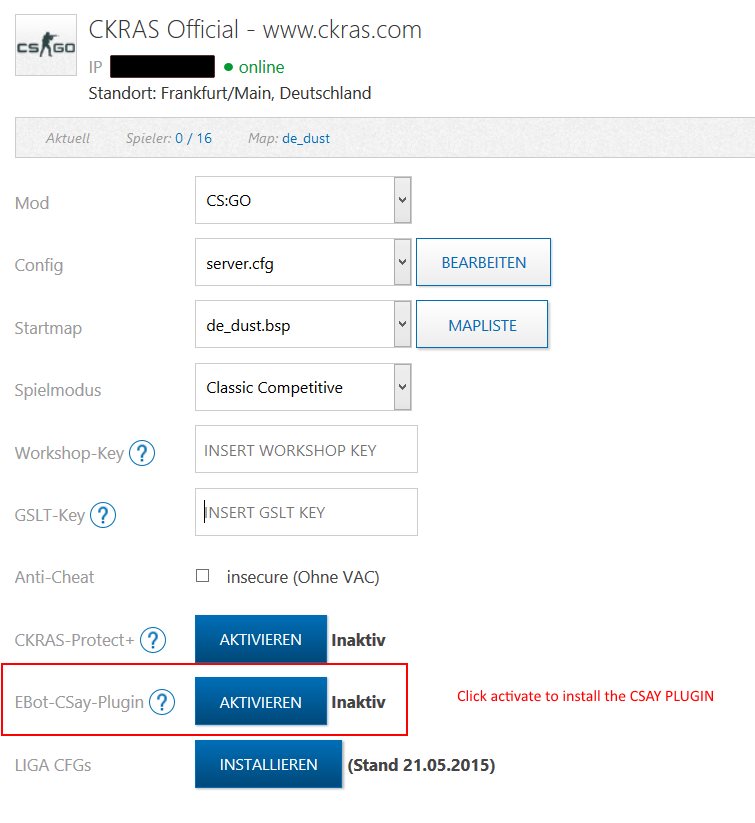 Create EBOT Account
Is it necessary to create an account on the EBOT Page http://public.ebot.wedeho.be/ , please click (Create Account) on the EBOT Page from Julien Pardons.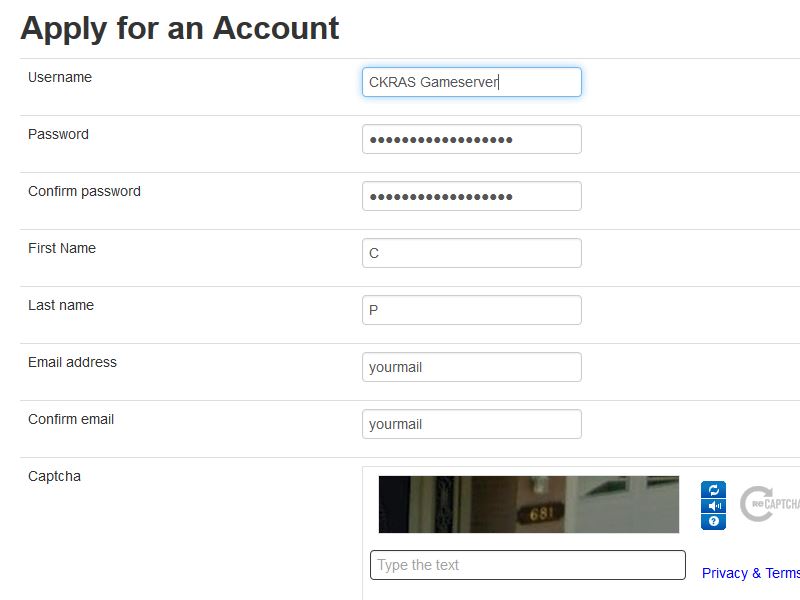 EBOT ADD Server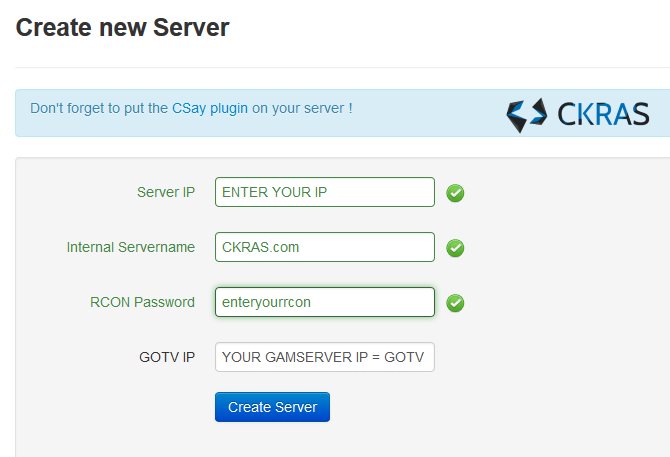 First of all click "ADD Gameserver" to add your gameserver, please enter your IP Settings and your RCON settings.
EBOT Create Game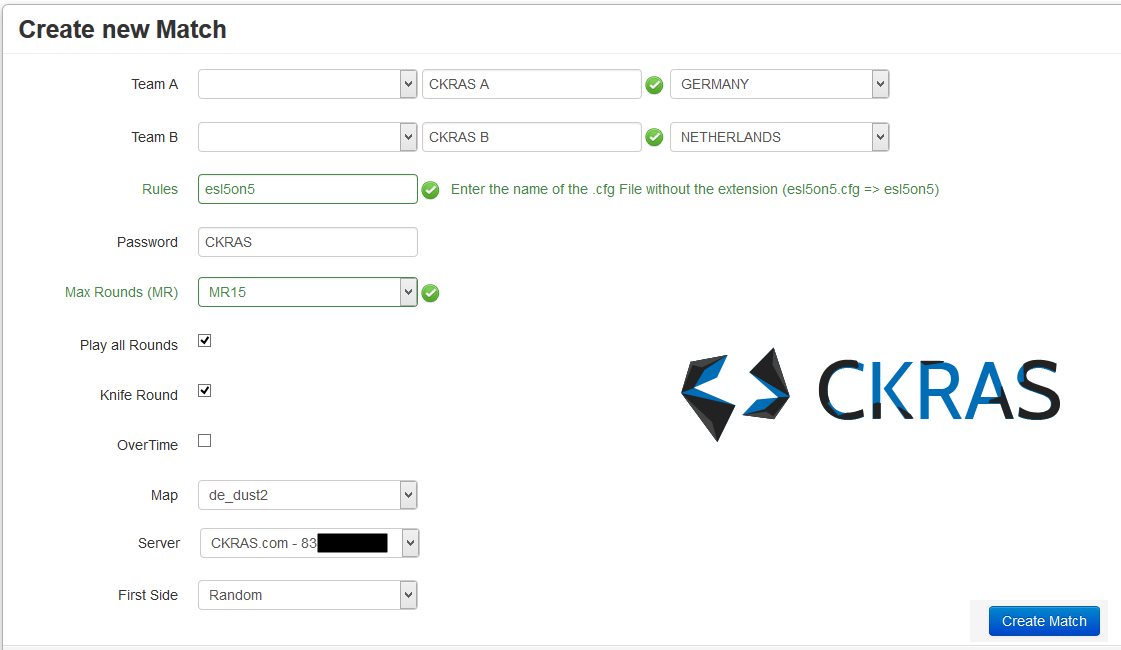 Ihr könnt jetzt direkt ein Spiel erstellen, oder vorher noch euer Team anlegen. Wir haben uns hier entschieden im Guide nur ein Match zu erstellen mit "Testeinträgen" wie im Screenshot dargestellt. Die Liste der verfügbaren Configs und Namen findet ihr im RCON ESL GUIDE
EBOT Create Game #1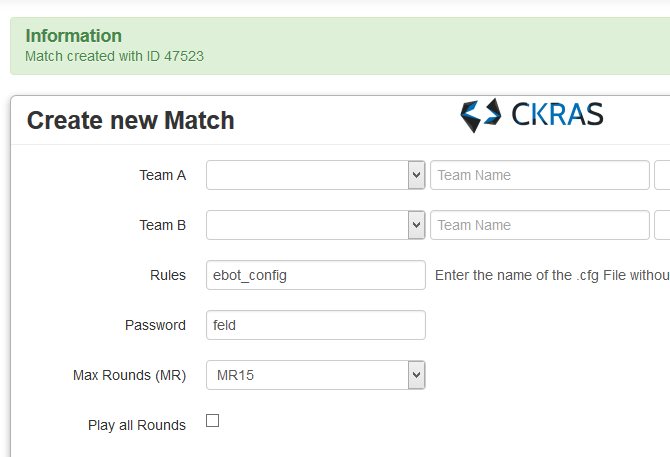 Game Starten (TBA)
EBOT Create Game #2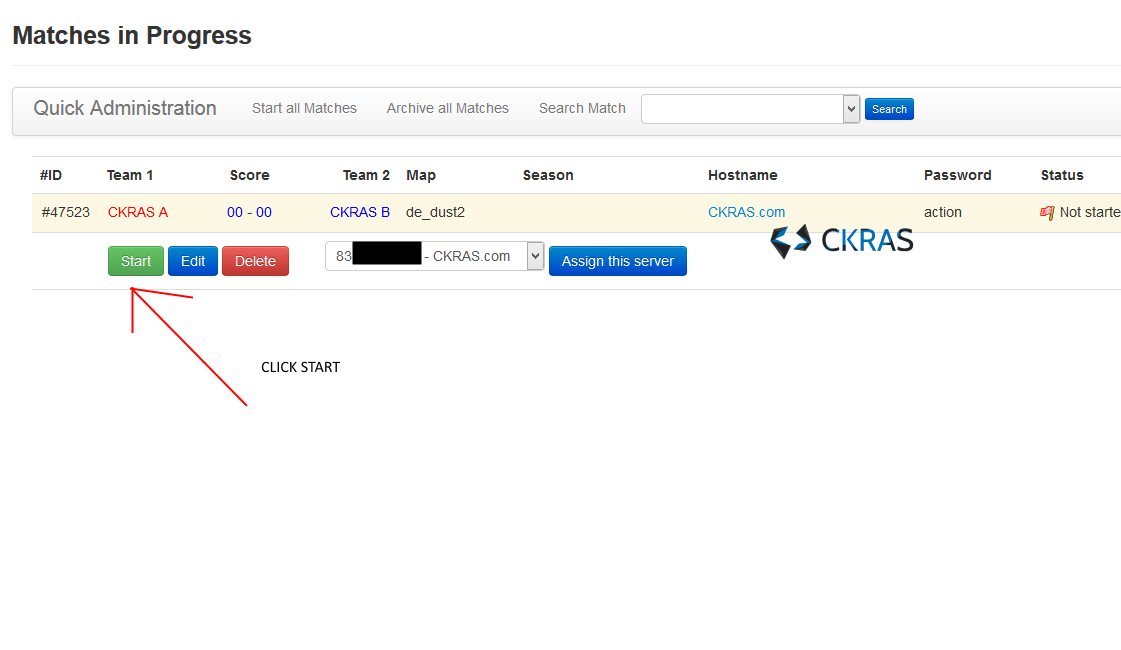 Game Starten (TBA)
EBOT Administration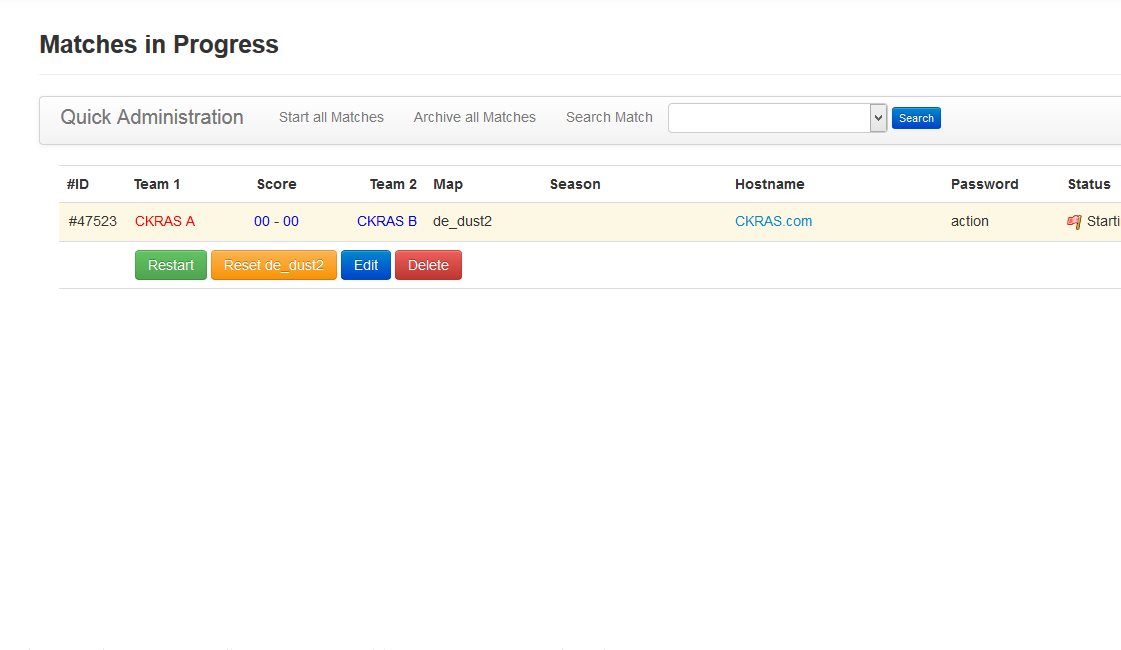 ENJOY - join your Gameserver CS:GO
Download Plugin
Download CSAY -> CSay-CSGO.zip
Commands
cvarlist ebot_
cvar list


---
ebot_get_last_roundend : cmd : :
ebot_lo3 : cmd : :
ebot_print_player : cmd : :
ebot_say_all : cmd : :
ebot_say_to_ct : cmd : : <message>
ebot_say_to_player : cmd : : <id> <message>
ebot_say_to_t : cmd : : <message>
ebot_switch_player : cmd : : <id> <team>
ebot_tv_demo_push : cmd : :
ebot_version : 3 : , "nf", "rep" : eBot: plugin version of eBot‏

// GUIDE BY CKRAS COPYRIGHT 2015